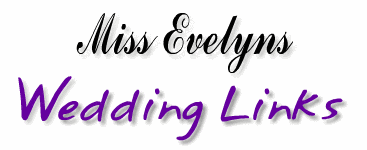 ---
Wedding Links USA
---

Congratulations on your engagement! Planning for your wedding can be a hectic time for you, lots of running around town to visit local merchants or you may be getting married in a location far away from where you live! What a better way to start your wedding planning than from the comfort of your own home!

The purpose of this site is to provide you with a listing of local wedding service vendors specific to the state you live in so that from this one web site, you can get your planning off to a good beginning with the click of a button, finding wedding venues, officiants, florists, caterers, photographers and wedding cake decorators to name a few!

Please check back weekly, as new vendors are continually added to our listings.

Once again, congratulations and best wishes!

Miss Evelyn ( :
______
Wedding Shopping Online!
Wedding Napkins | Wedding Accessories
Wedding Favors | Wedding Stuff
Wedding Cake Toppers | Cheap Wedding Supplies
______
Personalized Gift Ideas | Wedding Party Gifts