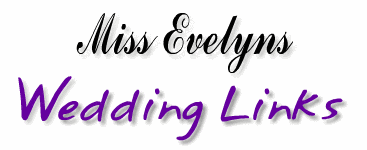 ---
Wedding Links USA
---

Congratulations on your engagement! Planning for your wedding can be a hectic time for you, lots of running around town to visit local merchants or you may be getting married in the in a location far away from where you live! What a better way to start than from the comfort of your own home!

The purpose of this site is to provide you with a listing of local wedding service vendors specific to the state your live in so that from this one web site, you can get your planning off to a good beginning with the click of a button, finding a wedding venue, officiants, florists, caterers and wedding cake decorators to name a few!

Please check back weekly, as new vendors are continually added to our listings and be sure to check out our coupon page for money saving discounts.

Once again, congratulations and best wishes!

Miss Evelyn ( :
______
Wedding Shopping Online!
Wedding Napkins | Wedding Accessories
Wedding Favors | Wedding Stuff
Wedding Cake Toppers | Cheap Wedding Supplies
______
Personalized Gift Ideas | Wedding Party Gifts